Useful
Information
Melanie Tilbury qualified as a Holistic Nutritional Practioner with The College of Natropathic Nutrition in Woking and is a member of AHNP. She is also a qualified Reiki Practitioner. Click on the links below for further information.

Check out the FAQ link
for answers to your questions.
Food State and Wholefood supplements are easily absorbed and much more effective than other vitamin and mineral supplements.


What is Reiki?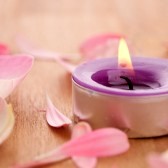 Reiki (pronounced Raykey) is a Japanese technique based on the idea that Universal Life Force Energy flows within our bodies through Chakra's and Meridians. If one's "life force" energy is low, then we are more likely to get sick or feel stress and if it is high, we are more capable of being happy, balanced and healthy.
How can Reiki help you?
Reiki is a gentle, non-invasive, hands on and off the body therapy which is deeply relaxing and assists with healing the whole body. Reiki, which is a positive energy, flows through me to you during treatment, restoring the bodies natural energy and allowing healing to take place in a very positive and natural way. Reiki induces feelings of peace, calmness, security and wellbeing and, being a holistic therapy, treats Mind, Body and Spirit and restores balance and harmony to life.
Reiki is a simple, natural and safe method of healing and self-improvement and has been effective in helping virtually every known illness and always creates a beneficial effect. It also works in conjunction with all other medical or therapeutic technicques to relieve side effects and promote recovery.
What to expect from a Reiki Treatment with me
When you come along to me for a Reiki treatment for the first time I will start with a brief consultation, to include any current symptoms or illnesses and details of your lifestyle and medical history.

A Reiki treatment with me is a deeply relaxing experience, you will be asked to lie comfortably, fully clothed, and relax. I use both hands on and off the body so the treatment is completely non-intrusive. There are energy centres, known as chakras, located in the body and, for the purpose of the Reiki treatment I work on the 7 main chakras, from the top of the head to the sacrum using traditional hand positions. Even when there are specific problems, you will always receive a full body treatment. I will remain quiet during the treatment as this is your time to relax, however, if you would like to ask questions you are welcome to do so. During the session you will be aware of what is going on (although some clients do fall asleep!) and you should feel wonderfully relaxed, secure and wrapped in a blanket of warmth. You may also feel tingly or see beautiful colours. Reiki can never do harm and you can never have too much. You do not have to be ill to benefit from Reiki treatments, many people enjoy treatments purely for relaxation or as a preventative measure to keep mind, body and spirit in harmony.

The Reiki treatment is beneficial for all; the elderly, pregnant women, children, babies and animals. The session, including the consultation will last approximately an hour and costs £35. You can also book a block three of treatments which cost £95.

Reasons for having a Reiki treatment:-
Physical pain or discomfort
Stress / anxiety / tension
Backache / headache / toothache / earache
Trapped nerves / sciatica
Painful joints / broken bones
Colds
Sinusitis
Digestive problems
Insomnia
Depression / post-natal depression
Continual tiredness / lack of energy
Exhaustion & nausea in pregnancy
During the birth of a baby
Feelings of fear, anger, hatred & all negative thoughts
Emotional crisis
A divorce or separation
Terminal illness
Bereavement / loss




Distance Healing
The wonderful healing properties of Reiki knows no boundaries, Reiki energies can be sent to anyone or anything, anywhere in the world. Upon request, I can send Reiki Distance Healing to your friends or loved ones, to a pet, to a problem or challenge in your life and it can help with past, present or future events, including treating and healing traumas from the past. Please contact me for further information.